Checkpoint USA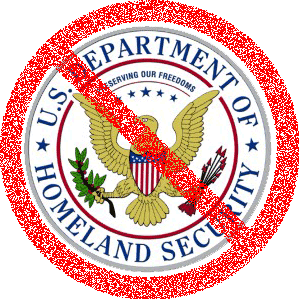 For those of you who've been following this blog for a while, you may remember a story I
posted
in March of last year involving a military field grade officer at a Border Patrol checkpoint near Uvalde, TX. That initial report was followed up with another
post
several months later containing additional video footage and commentary regarding the incident.
[More:]
In that incident, Border Patrol agents harassed and attempted to intimidate an active duty military officer, with multiple combat deployments, at a suspicionless checkpoint inside the country no where near an international border for over thirty minutes despite having no legitimate reason to believe he had violated any law.
The Border Patrol agents appeared largely uninterested in evidence of the officer's citizenship status despite being offered an active duty military ID, driver's license and U.S. Passport. Rather, the agents were much more concerned with whether or not the officer rolled his window all the way down then if he was 'legally' within the country.
To justify the extended detention, agents lied about the sequence of events at the checkpoint. They also demanded to know where the officer worked and who his commanding officer was - information completely unnecessary to determine immigration status at an immigration checkpoint. Indeed, throughout the videotaped encounter, it was pretty clear the Border Patrol agents (not actually patrolling the border) were using the 'immigration' checkpoint as an opportunity to condition the general public to be
obedient
to arbitrary interference in their right to travel inside the country absent individualized suspicion.
Given that I've already blogged about this incident twice, you may be wondering why I'm doing so again. It turns out the Border Patrol agents weren't content to limit their harassment of the officer to the checkpoint encounter. Rather, he needed to be punished much more broadly for failing to grovel before them while otherwise cooperating with the purported purpose of the suspicionless seizure.
As
reported
by Veterans Against Police Abuse
(VAPA)
, the Chief Patrol Agent of the Del Rio sector, Robert L. Harris, took time out of his busy schedule saving us from the invading hordes to write a
letter
of complaint, full of falsehoods, to the officer's military command. Since it was obvious the officer hadn't violated any laws during the encounter, the letter was really nothing more than CPA Harris moaning about a military officer exercising the very rights the federal government allegedly sent him overseas to fight for in the first place.
[Robert L. Harris
Chief Patrol Agent
U.S. Border Patrol
Del Rio Sector]
Rather than parsing CPA Harris's
letter
myself, I encourage you to checkout VAPA's
open letter response
to Chief Harris. Their response is far more detailed and on point then anything I could have done. In the event the response disappears from VAPA's website however, I've replicated it at the bottom of this article.
What's of special note here is the fact that without video evidence directly contradicting CPA Harris's account, this would have been the officer's word against the highest ranking Border Patrol agent in the Del Rio sector. The video evidence also shows just how far a high ranking Border Patrol agent like Harris is willing to go to retaliate against individuals, at their place of employment no less, for doing nothing more than peacefully exercising their rights. This is one of the reasons why it's so important to videocord your entire encounter during such checkpoint seizures.
Another reason is to secure evidence to protect yourself against trumped up charges or to use in a lawsuit for such things as deprivation of rights & quite possibly
tortious interference
. Although I haven't seen the filings yet, it's my understanding that just such a lawsuit has been initiated regarding this encounter.
It's also my understanding the officer in this case has retained the services of Marc Victor,
Attorney For Freedom
, the same attorney who successfully
represented
Steven Anderson against false charges at a Border Patrol checkpoint last year along with a pending civil rights lawsuit.
I plan on following these cases closely as they develop & will write about them in greater detail as additional information becomes available. In the meantime, I encourage you to once again checkout VAPA's
open letter response
to Chief Harris's letter of complaint. If someone as high ranking as Chief Harris is willing to stoop so low knowing full well video evidence exists to contradict his assertions, is it any wonder why immigration checkpoints have
morphed
into general law enforcement dragnet operations that have little resemblance to the "minimally intrusive" checkpoint operations
considered
by the U.S. Supreme Court in 1976?
A reprint of VAPA's
open letter response
to Chief Harris appears below:
Continue reading at Checkpoint USA link at top of page.